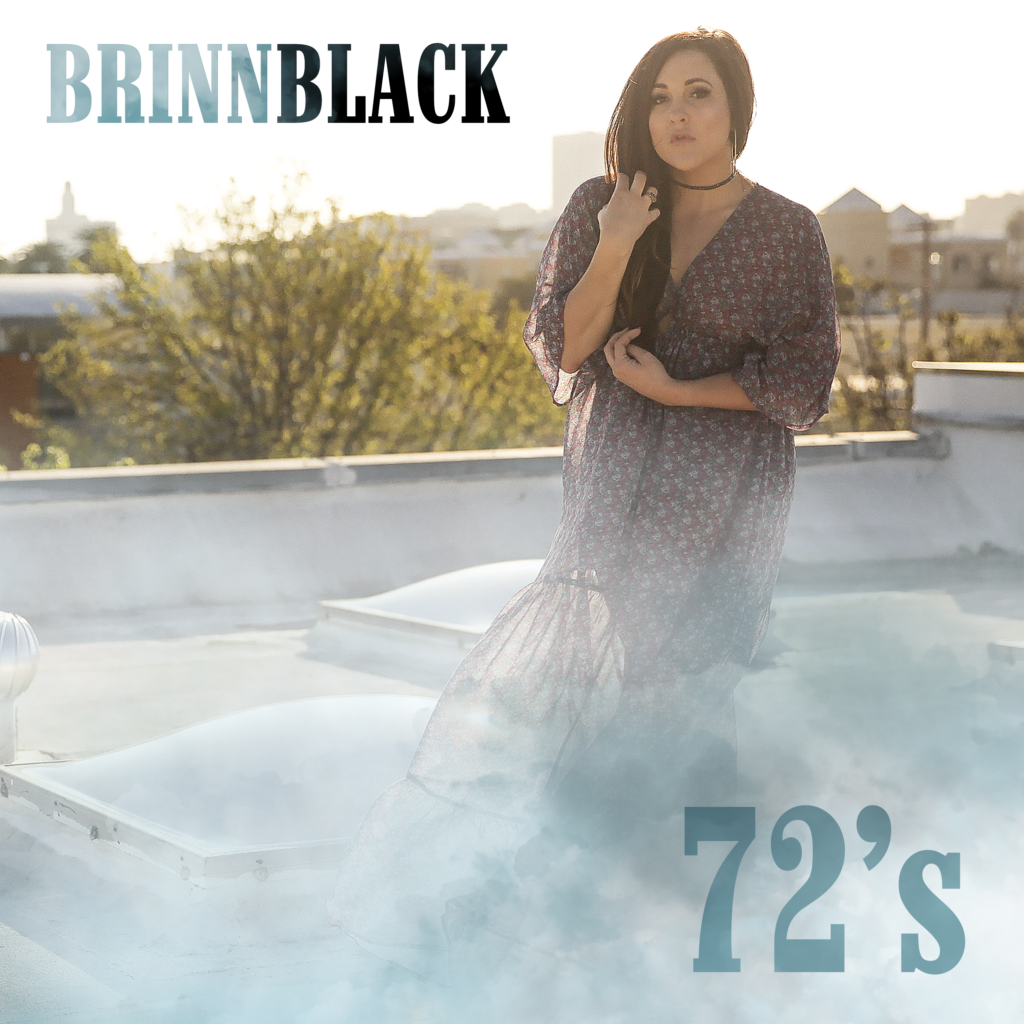 Brinn Black's current single is 72's. It was written by Black, Briana Tyson and Brittany Kennell. It was produced by Nolan Neal Seals. Country Music Views had a question and answer session last week with Black.
Describe your new song in your own words? 72's turned out to be a love song, but it didn't start as that. It came out of frustration…It's like "Hey, put that down and pick me up."
What inspired the song? I had it in my arsenal of song titles for co-writes and things like that for a while. I would throw it out, but we just never wrote it. I got together with Briana Tyson and Brittany Kennell. We were talking about it and Briana was going through something similar at the time. It's kind of all came out.
How was recording in LA different from recording in Nashville? We did it in a home studio. It was easier, being more free with what we were doing…There were no time constraints. We were not locked down to a clock on a studio wall. It was really fun.
What was it like working with Producer Nolan Neal Seals? He's a hoot, that's for sure…He's just so intentional. He's incredible. He's an amazing vocal producer. He really pushed me…I've never had a producer care that much about the product and me to really see that in me and pull it out and record it.
What is something that would surprise your fans? I'm a really big genealogy nerd. My grandmother lost all of her family in World War II and she never found out what happened to them. After she died, I really started getting into it…I've done my entire family tree on all the sides.
What instruments do you play? I play guitar. I sing. I do background vocals. I can dabble on piano enough to write a song. Actually, I played French horn for four years.
Tell me a cute story about your dog, Mollie B? She hadn't seen her sister in like seven years, since I rescued her. I connected online with the lady who rescued her sister…It was so cute…They weren't raised in the same household, but they still have a lot of things alike…The rescue organization had posted a picture of Bella and her owner saying how happy she was…We've been friends online and I was driving through her area after a gig last weekend. I said 'I'm coming through' and went down so they could get together.
Oddest job you have worked? The most heart-wrenching or gut-wrenching for me personally is I had gotten hired to do one of those roadside spinner promotions…I had done those before and they are great. I think they paid like 100 bucks or something for the day. It was in February and it was super cold. It was literally 13 degrees outside and the wind chill was worse than that. I was just so defeated…The manager of the store wouldn't let me come in early or anything like that…It was freezing.
Favorite song you have written? That changes on a weekly basis. I think "Daddy's Medicine" probably is that for me just because it allowed me to be transparent with who I was and it allowed me to do good things in the world. It had my family's story help other people. I think that's what music is about. That song has just been really, really cool.
Favorite song you haven't written? Probably a song by the Indigo Girls called The Wood Song. That song has morphed throughout time with me…I would say it is my funeral song. It's what I want played at my funeral one day because it's so beautiful. I love it.
If you could co-write with any artist – living or dead – who would it be and why? Probably Lori McKenna or Carole King. I don't know. I just think that the way that Lori writes is so conversational. It's honest and it's conversational and it's vague enough that it is relatable to so many different people, which is the beauty of songwriting. I've been a fan of hers since she was at Warner and put out her Unglamorous record.
Hobbies other than music and songwriting? I love home decorating…I love travel. I'm kind of a gypsy spirit whether I'm on the road or not. I really enjoy travelling…I'm a big reader.
Favorite city? I love New York so much. I love LA…Overall, I'd probably say Paris though…I've been there a few times. It's so beautiful. It's the perfect mix of old and new. There's so much history and culture there.
Cooking or fast food? I go through phases. Right now, I'm in a cooking phase. Fast food gets old though. I love cooking, but it's a creative thing. I don't like cooking out of necessity…I like cooking for people. I think that's really fun. I love creative food whether I'm eating it or making it.
Pizza or burgers? Pizza 100 percent. I don't eat meat.
Movies or video games? Movies.
Favorite ice cream flavor? Ben and Jerry's Phish Food.
Beer or wine? Wine.
CMA Fest or Bonnaroo? CMA Fest 100 percent. I've never been to Bonnaroo.
Football or basketball? Football.