Most of the time when I do an interview with someone, I write an article about what that person is doing and I include a lot of quotes from them. Every now and then, I do an interview when I feel like the story needs to be structured in a different way. This is one of those times.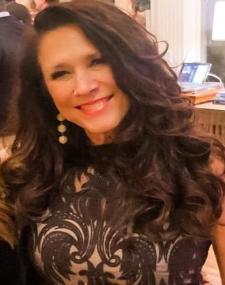 As a music lover, I have gone to a lot of concerts and music events. Most of the time, music fans don't get the opportunity to get a good idea of what goes on behind the scenes and all the work that was necessary for the event to happen. Events don't create themselves. It takes people with the passion to catapult them from being a good idea into being an event at all. If not for Country Music Views, I most likely would not have interviewed Cara Hogan, executive director of the Gatlinburg Songwriters Festival. It became clear to me that this festival might not even exist without people like Hogan.
She told me that there was a festival that ran in the area for several years that ended. It was a group of songwriters that wanted to continue the festival. When this year's festival happens Aug. 18-21, it will be the second annual Gatlinburg Songwriters Festival. Hogan said the first year was going to be 2020, but it was cancelled because of the COVID-19 pandemic. She said there was a resurgence of COVID-19 around the time for the festival last year and there was a chance it would need to be canceled, but they were able to have it.
Those who attended last year will notice there have been some additions to the festival. Hogan said they have added several new venues, adding that they have already been approached by other venues that would like to host shows during the Gatlinburg Songwriters Festival.
Another major addition is starting the Gatlinburg Songwriters Hall Of Fame. Kim Williams will be the first songwriter inducted during the ceremony that will be held on Aug. 18. Williams passed away in 2016, but Danny Wells and Doug Johnson will perform in his honor. Williams co-write "While You Loved Me" (Rascal Flatts) with Wells and co-wrote "Three Wooden Crosses (Randy Travis) with Johnson. Garth Brooks frequently wrote with Williams and recorded the songs they wrote together. "Papa Loved Mama" and "Ain't Going Down (Til The Sun Comes Up)" were two of the songs co-written by Brooks and Williams that became #1 hits for Brooks.
Hogan said Brady Seals has a new release this year and he will be playing in the Friday night Headline show. Seals has formerly been with bands Little Texas and Hot Apple Pie. His current single "Farm Boy" is a solo release. He will also be releasing another solo single late this year that was written with Bill Whyte.
Saturday night's Headline show will feature Larry Gatlin. Hogan said they met Gatlin on an airplane. "He was willing to be one of our headline acts because he wants to support what we're doing," she said, adding that Gatlin is also doing a MasterClass at the Gatlinburg Songwriters Festival.
Hogan said she worked with Gibson in artist relations. She's also a songwriter herself. She wants to provide programming that would be beneficial to songwriters. At the Gatlinburg Songwriters Festival, attendees will be able to do more than attend great shows and writer's rounds. Gatlin's class will be one example. There will also be a workshop about getting a cut for film and television. People that attend that workshop get the opportunity to submit one song that could potentially get them a single-song sync contract. Attendees have the option to purchase workshops individually, or purchase an unlimited workshop pass.
Attendees will also have the opportunity to purchase group writes with some of the songwriters present at the Gatlinburg Songwriters Festival.
While there are many things attendees may purchase, there are a lot of free performances that attendees will be able to watch free of charge. Hogan said there will be a free Legends of Bluegrass show at Ole Smoky Holler on Friday night. The show will feature Irene Kelley, Jerry Salley, Tim Stafford, Carl Jackson, and Thomm Jutz. There will also be a lot of songwriters at different venues that are playing in rounds that are free to the public.
For more information about the Gatlinburg Songwriters Festival, visit www.gatlinburgsongwriters.com.