Do you prefer artificial Christmas trees or real trees? Real!!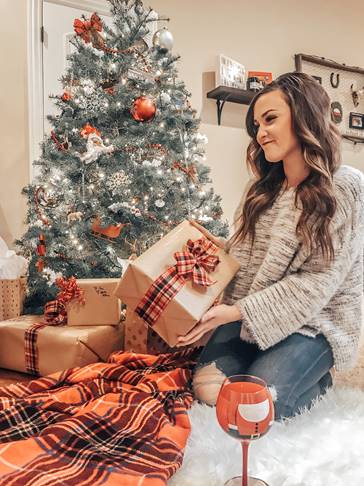 When do you decorate your Christmas tree? The day after thanksgiving!
What is your favorite Christmas song? What makes it your favorite? I feel like it changes ever year but this year is Mary, Did you know? by The Pentatonix.
What is your go-to holiday drink? Eggnog or peppermint martini.
What is your favorite Christmas present that you have ever received? I will never forget the Christmas when I was younger and I walked down the stairs to a bike AND a life size play house!
What were your Christmas traditions when you were younger? Every Christmas Eve we open matching PJ's and every morning we eat Kringle!
How have your Christmas celebrations changed since becoming an adult? Not one bit!! We love our traditions.
How will Christmas be different at your house this year be different this year because of the COVID-19 pandemic? Again, the group may be smaller but we'll still all be home for the holidays.
What is your favorite Christmas memory? I have too many! Christmas is my absolute favorite time of year and ever year is made special in its own way!
How do you spend the week between Christmas and New Year's Day? Just lounging! We will typically head back up to my parents cabin and enjoy the down time.
How do you spend New Year's Eve? Typically up in the mountains unless I have a show to play.
How will the pandemic impact your celebrations? New years will probably be a bit quieter I would think.
What do you typically eat on New Year's Day? My mom's chili soup.
Do you have a New Year's Resolution for 2021? Not yet but I'm sure last minute I'll come up with something.