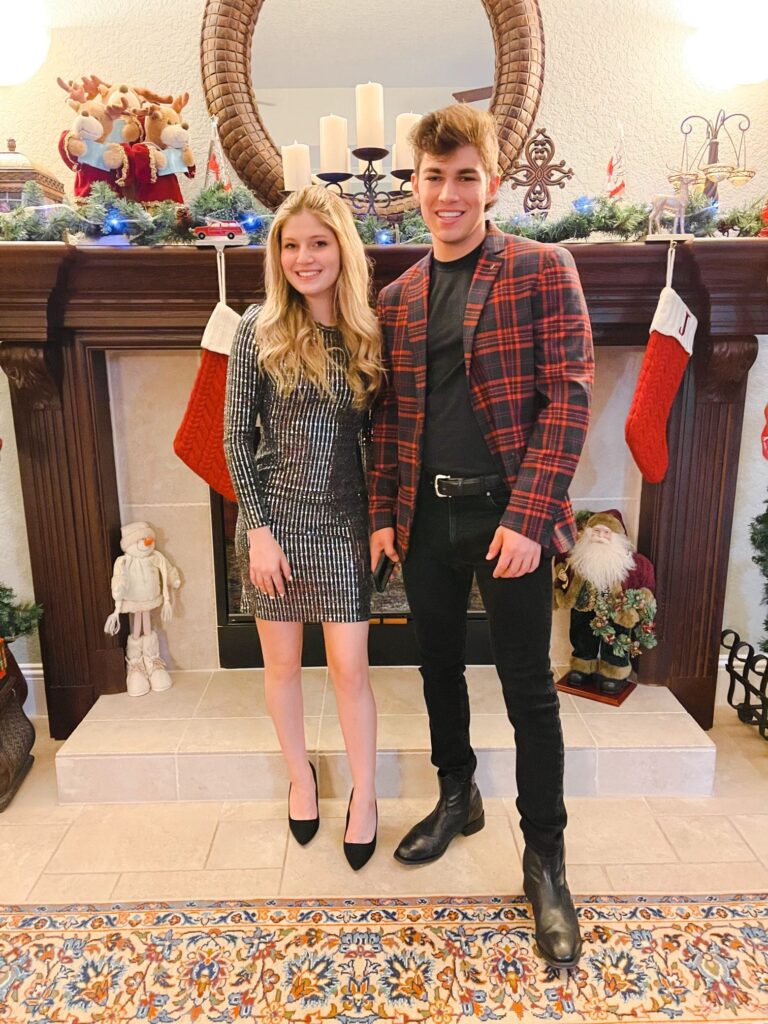 What is your current single and/or album? Juna: Our current single out right now is called "'Til Your Heart Breaks." Joey: Before "'Til Your Heart Breaks," we also released our song "Something Good To Miss" earlier this year.
What was a typical Thanksgiving meal look like for your family? Juna: A typical Thanksgiving meal for our family is HUGE! Every family member usually brings a dish, and we sit down, say grace, and then feast. Of course, everyone usually ends up leaving with a whole backseat full of leftovers, haha. Joey: We usually start with a whole bunch of appetizers, then about three hours later we eat we finally settle down to eat the main meal. Then we bring out the good stuff like turkey, mashed potatoes, and veggies, but nobody ever goes back for seconds because we're so full from the appetizers! Then we have so much food left over.
What were your Thanksgiving traditions when you were younger? We didn't have too many traditions other than that we all gathered together as a family on Thanksgiving. I'm also always the one to write the prayer. Joey: We don't have actual traditions, but we pretty much go to our cousins' house every year to eat. Usually, right after we eat, I sit on the couch and take a nap, then get ready for some NFL football. Then we usually play pool, darts, and then go late-night swimming.
How has your Thanksgiving celebration changed since you have become an adult? Juna: Thanksgiving will always be the same no matter how grown-up we get. We will always have the same crazy, loving Italian family sitting around the table every year, and I wouldn't want it any other way. Joey: When I was younger, I didn't really talk a lot at the table, but now that I'm older, I'm very social with my family.
What is your favorite Thanksgiving Day memory? Juna: I think my favorite Thanksgiving memory is after dinner when the ladies are getting dessert ready. Joey and I sit around the table and play our family our latest new music. It's also funny when my dad, uncle, and grandpa all fall asleep on the couch and snore simultaneously! Joey: My family loves to have a good time. My favorite memory was when we turned on Adele, and it felt like we were having a concert.
What are you most thankful for this year? Juna: I am most thankful for my family around this time, especially since we could come together last year during the holidays. I am grateful to get to see them again and catch up. I am also so thankful for my manager and all that she does for us. She is the most amazing woman, and I will be forever grateful for her! Joey: I'm thankful for country-pop music, my manager, and my family because they will always be with me, by my side, no matter what.
Do you prefer artificial Christmas trees or real trees? Juna: I 100% prefer real Christmas trees. When you get a real Christmas tree, you don't just get a real Christmas tree. You get the experience of going to pick it out with your family, the smell of the tree that fills up your living room for weeks, and, lastly, the big bonfire where you burn it on New Year's Eve and with friends and family! Joey: I also prefer real Christmas trees because you get to look for one with your family!
When do you decorate your Christmas tree? Juna: We usually get our tree the day after Thanksgiving. Joey: After we get our tree, we wait for the branches to fall before decorating.
What is your favorite Christmas song? What makes it your favorite? Juna: My favorite Christmas song is "Blue Christmas" by LeAnn Rimes. I love her rendition of the song, and my mom always used to play it around the holidays when we were growing up. Joey: I enjoy Jingle Bell Rock – it's just so catchy, and I automatically dance to it when it starts playing.
What is your go-to holiday drink? Juna: My go-to holiday drink is the chestnut praline latte from Starbucks. It's a seasonal drink, and I crave it all year long! Joey: My go-to drink on holiday would be good ol' H20!
What is your favorite Christmas present that you have ever received? Juna: My favorite Christmas and birthday present (because Christmas and my birthday are so close) was my second dog Squash and my Ford-F150. I love them both so much, and I am very grateful for both of them! Joey: When I was little, I enjoyed playing sports. So one year, I asked for a basketball hoop for Christmas, and, sure enough, it was sitting there in my garage on Christmas Day.
What were your Christmas traditions when you were younger? Juna: My favorite Christmas tradition from when we were younger is how our dad spread our presents around the house. He would put them on the stairs and around the tree, and I was excited to grab one and run back to show my parents what I found! Joey: I loved looking around for presents throughout the whole house. One tradition that we still have today is to make sure all the wrapping paper is in the garbage because it makes a big mess.
How have your Christmas celebrations changed since becoming an adult? Juna: Once again, I don't think Christmas has changed at all for me over the years. I'd say it's even better now because I realize everything my family has done for me! Joey: As an adult now, I feel like I appreciate my gifts a lot more, and I am very thankful every year to get gifts from the people I love the most.
What is your favorite Christmas memory? Juna: Some of my favorite Christmas memories are all the ones recorded on our old camera. My mom used to record our holidays, and we now look back at them and laugh at all the good times we shared as a family on Christmas. Joey: My dad owns a produce market and has tons of fruit boxes for the fruit. So one year, he had no boxes for our presents, so he just used them, haha.
How do you spend the week between Christmas and New Year's Day? Juna: I would say working. We spend time getting everything ready for the new year, writing new music, and preparing for upcoming interviews. Joey: I celebrate because a new year is about to happen, and in between that, I get some work done and enjoy the gifts I received from Christmas.
How do you spend New Year's Eve? Juna: We spend New Year's Eve with friends and family watching the ball drop at midnight and thinking about our goals for the upcoming year. We like to enjoy the night and look back at memories of the past year and what we accomplished. Joey: We enjoy spending time with our friends and family!
What do you typically eat on New Year's Day? Juna: I wouldn't say we eat anything particular on New Year's Day. We don't usually have a special New Years Day meal! Joey: I usually eat some rice, ground turkey, and some veggies, but that's pretty much what I eat every day!
Do you have a New Year's Resolution for 2022? Juna: Yes, I would love to get on a big tour opening up for an amazing artist such as Hardy or Luke Combs and release a lot more music. I also want to continue to grow our social media following. And for me personally, I would say I need to drink a lot more water and get outside more! Joey: I would love to tour with some big artists and release some new music. I also want to continue to grow as a musician!