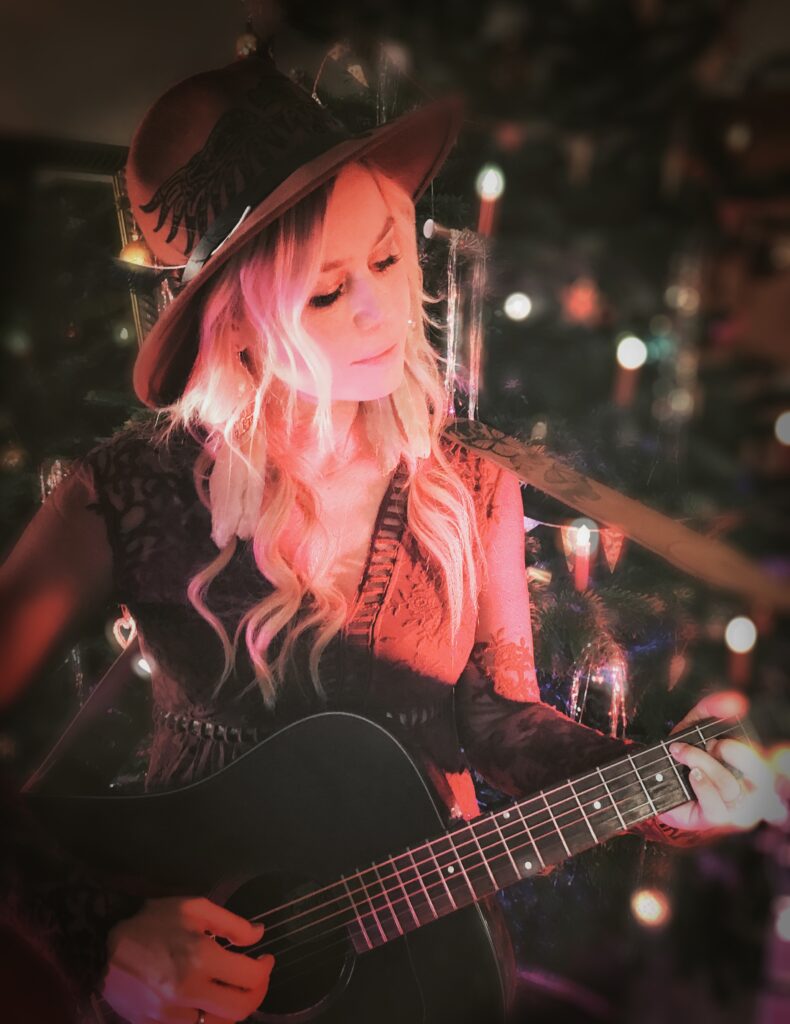 What is your current single and/or album? A Memory of Snow (single).
What was a typical Thanksgiving meal look like for your family? I'm from Sweden so we don't celebrate Thanksgiving.
What are you most thankful for this year? I'm grateful for all my fans who have supported me this year through my online concert and buying CDs online now that all my shows have been canceled due to the pandemic.
Do you prefer artificial Christmas trees or real trees? It's a real tree or no tree for me.
When do you decorate your Christmas tree? I usually buy and decorate it a few days before Christmas.
What is your favorite Christmas song? What makes it your favorite? I really like Green Grows the Holly with Calexico. I think it's so beautiful with the trumpets. I also like Aimee Mann's whole Christmas album One More Drifter in the Snow.
What is your go-to holiday drink? Well, coming from Sweden, it would be mulled wine, or as we call it Glögg.
What is your favorite Christmas present that you have ever received? Oh gosh, I really don't remember, I don't care much about presents.
What were your Christmas traditions when you were younger? We would celebrate with our family. In Sweden we celebrate on the 24th, so at one in the afternoon we would all watch the Disney Christmas on TV with all the old Christmas specials, then have Christmas lunch and after that Santa would come with the presents. Then more food and so the night would go on.
How have your Christmas celebrations changed since becoming an adult? Well, we don't watch the Disney Christmas anymore. But also there's a more eclectic mix of people, not just family, but friends and we do more of a Christmas dinner. But we still do a lot of the traditional Swedish Christmas food like pickled herring and baked Christmas ham.
What is your favorite Christmas memory? I'll tell you what my least favorite Christmas memory is. Me and my hubby celebrated in Thailand and had a "Swedish Christmas dinner" after which I got the worst food poisoning ever. We were on a little island where you had to poop in a hole basically, so that was no fun, and then the Tsunami hit. Thankfully we weren't in the area where it happened, but that was one sad Christmas.
How do you spend the week between Christmas and New Year's Day? In Sweden, it's a huge shopping week when the sale comes on, so when I was younger I'd do a lot of shopping. Now it's more about taking it easy, relaxing, and spending time with friends.
How do you spend New Year's Eve? Lol. I feel like such a party pooper. I'm not a huge fan of either Christmas or New Year's. I'm actually happiest to just spend New Year's with my hubby, eat some good food and watch the fireworks. I've had a lot of crazy new years parties in my days, but I feel like it's that party that always comes with a lot of expectations and then you're always let down in the end because of it.
What do you typically eat on New Year's Day? Leftovers most likely.
Do you have a New Year's Resolution for 2022? No, I try to only make promises I know I can keep haha.