NASHVILLE, TN (November 30, 2020) – As one of the most successful touring artists in Christian music today, GRAMMY ® winner Chris Tomlin will bring Christmas joy into homes everywhere with K-LOVE Christmas & Chris Tomlin Present: "Christmas Songs of Worship" Christmas special on Saturday, December 12 at 8 p.m. CST.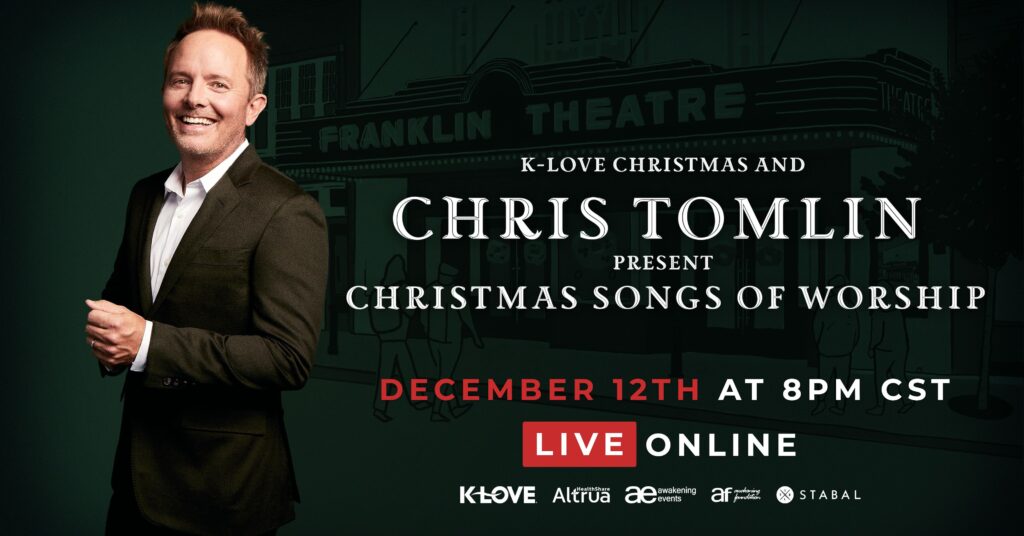 The 90-minute full band, full production concert will be streamed on Stabal's global platform, a leader in the digital space with on-demand live performance and creative content. The concert features guests like We The Kingdom and Pat Barrett. People are invited to experience the night one time or opt in for a 30-day pass which features bonus content. Tickets are available NOW at www.christomlin.com. Watch a clip HERE.

"For the past decade I have spent the better part of the Christmas season on the road, traveling from city to city on a Christmas tour. This year I was sure that we wouldn't be able to make that happen in light of COVID-19, but God had a different plan," said Chris. "Together with my friends at K-LOVE and Awakening Events, we found a way to take my annual "Christmas Songs Of Worship" concert around the world. I am so grateful that while we can't physically be together our hearts can come together to worship the Savior of the world."

The concert was filmed at the historic and beautifully restored Franklin Theater in Franklin, Tennessee and includes some of Chris' favorite traditional songs of the season as well as originals from his Christmas albums. Among them, "Miracle Of Love" written about the new baby girl his family is expecting this December. Recently Chris premiered the song's music video exclusively on Facebook, making him the first artist in the Christian genre to do so. He now joins the likes of Bon Jovi, Katy Perry, Chris Stapleton, Carrie Underwood and other A-list artists who have also accomplished this feat. 

"So many Christmas traditions are going to look different this year for families around the world, but I am so grateful for the opportunity to create a new tradition together, made uniquely for 2020," shared Chris. "So gather your loved ones on the couch, make some hot cocoa and join me in an experience and a moment we will never forget."

To find out more about how you can access exclusive opportunities to watch behind the scenes content, see surprise guests, and experience the Christmas special concert multiple times go to christomlin.com for more information.

The KLOVE Christmas & Chris Tomlin Present: "Christmas Songs of Worship" is promoted by Awakening Events who have enjoyed a 15-year touring relationship with Chris.

"Miracle Of Love" is the title track from Chris' Miracle Of Love: Christmas Songs of Worship EP released in October. Get the EP HERE.   

Miracle Of Love: Christmas Songs of Worship Track Listing:
1 "Miracle Of Love"
2 "All The World Awaits (Hosanna)" 
3 "Christmas Day" (feat. We The Kingdom)
4 "His Name Is Wonderful"
5 "Little Drummer Boy"
6 "Hope Of Israel"
7 "Noel" (feat. Lauren Daigle) 

The December 12 concert ends an eventful year for Chris. 2020 launched with the transition of his annual "Good Friday Nashville" concert into a global radio and television event. "Good Friday – Worldwide with Chris Tomlin and Max Lucado" was simulcast with radio partners K-LOVE, Air1 and 30 additional stations across the U.S. and was seen and heard in over 32 countries. In the spring, Chris was asked to join Reba, Hillary Scott, and Keith Urban on Thomas Rhett's "Be A Light," released at the start of the global pandemic to offer hope and spread love. Chris received his first-ever CMA award nomination for his participation in the song and made his debut appearance at the show to perform it with Thomas.
In August, Chris released Chris Tomlin & Friends, a 13-song project featuring him with some of today's biggest country music artists and more, debuting it at #1 on Billboard's Christian Albums Chart. To launch the new music Chris performed "Thank You Lord" with Thomas and executive producers Florida Georgia Line on the Today Show and Late Night with James Corden.
The album contains his 17th #1 single, "Who You Are To Me" feat. Lady A, which has reigned at the top position for SIX consecutive weeks making it Chris' second longest running #1 after his 14-week rule with "Whom Shall I Fear (God of Angel Armies)." Earlier this month, Chris performed with Lady A and Russell Dickerson on the Grand Ole Opry.