In a world where men dominate music charts, it's not easy to be a female artist. That's not going to stop dozens of talented women from fighting for their rightful place in the music industry. One of those women is Kalie Shorr, who has been advocating for the women in the music industry to get more opportunities and recognition.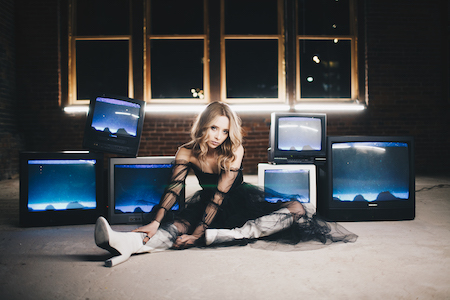 For the past few years, Shorr has been part of weekly show called Song Suffragettes, which has a rotating roster of female singer-songwriters. On Monday, Shorr was featured on PBS NewsHour with the Song Suffragettes and Change The Conversation. During the appearance, she talked about the importance of women in the music industry supporting each other.
"I think, in the past five, six years that I have been in town, I saw this attitude shift, even within myself, where it was like, 'she's not your competition," Shorr said. "She's trying to do the same thing you're doing,' and that's great because, Patsy and Loretta were best friends, and Dolly and Emmylou…"
She also talked about the challenges she has faced as a female artist in country music. She said she had actually walked into a couple of major labels and was told that they couldn't sign a girl at that time because they already had one. After the interview she posted on Twitter, "Really thankful to have gotten to talk to @NewsHour about some of the challenges I've faced as an artist. I'm proud of where I am and wouldn't change anything, but I'm glad to have had the opportunity to be candid about it."
Earlier this month, the Song Suffragettes celebrated their five-year anniversary with a show at the Listening Room in Nashville. Shorr participated in the first writer's round of the show, which was sold out. After two writer's round, NPR's Jewly Hight did a Q&A with songwriter Liz Rose, who has co-written such as "Girl Crush" (Little Big Town), "God Made Girls" (RaeLynn), "You Belong With Me (Taylor Swift) and "Cry Pretty (Carrie Underwood). Rose was presented with the Yellow Rose of Inspiration Award at the end of the night.
Shorr gained recognition for her song "Fight Like A Girl" in 2016. She was a Highway Find on SiriusXM The Highway. Taste of Country called the song "an anthem for marginalized females in music, business and life."
In November, Radio Disney Country launched a daily series called "Let The Girls Play," which is hosted by Shorr and Savannah Keyes, who also participates in the Song Suffragettes shows.
Shorr made her Grand Ole Opry debut on March 31, 2018, which she called "one of the most emotional experiences of my life." On Tuesday, she made her 10th appearance on the Grand Ole Opry in less than a year.
Shorr begins production on her first-ever full length album next month.
Fans can stay current with Kalie on Instagram, Twitter and Facebook. Be sure to follow her on Youtube and visit www.kalieshorr.com.
Rick Amburgey is an experienced journalist and country music fan. He can be contacted on Twitter at @ViewsCountry.