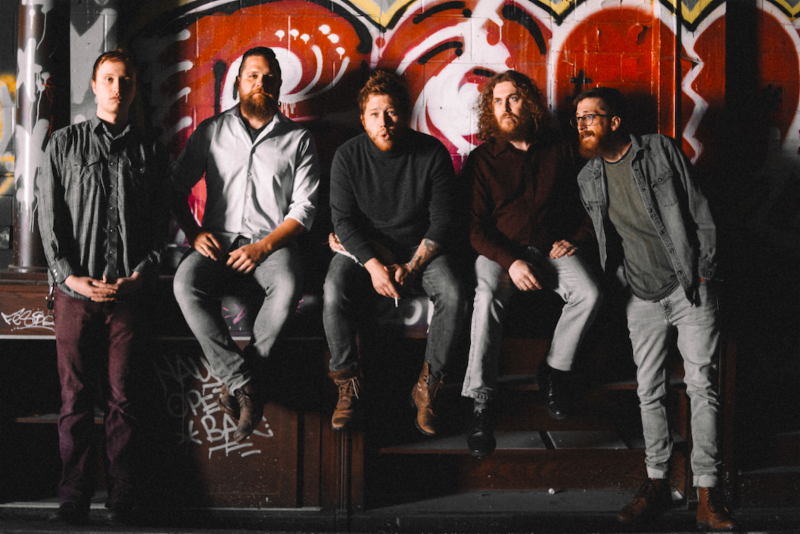 Old Salt Union will release their latest album called "Where The Dogs Don't Bite" on August 16. The album, which is being released on the Compass Records label, is the band's first album of completely new material in a few years. It was produced by Allison Brown, who is a Grammy-winning banjo player and co-founder of Compass Records.
Old Salt Union is made up of Ryan Murphey (banjo), Justin Wallace (lead vocals and mandolin), John Brighton (violin), Graham Curry (guitar) and Jesse Farrar (lead vocals and bass). Farrar said the band started in early 2012 and he joined a little later that year. He said the band released their first album of all original material in 2012.
Farrar said he would rather not classify the band in a particular genre. "When people ask, we don't say bluegrass because we're not a bluegrass band. We do have bluegrass undertones," he said, adding that they would be best described as an alternative string band.
Farrar said none of the four guys knew each other prior to being in the band, but they have grown very close in the last several years. "I never had any brothers growing us, so this is the closest I've ever come," he said.
All of the songs on "Where The Dogs Don't Bite" were written by band members. Old Salt Union's fans still haven't heard most of the songs on the new album yet. Farrar said they have only played a couple new songs live so far, adding that they are waiting to the CD release show to play all of the songs. He said it is going to be nice to get some new songs in rotation.
Farrar said Brown made them feel very comfortable and he described making the first album as a very pleasant experience. He said there was some hesitation to share their ideas with such a legendary figure in the music business. You kind of blindly trust her. If you're going to blindly trust anybody, Allison Brown is the person to do it," Farrar said.
He said they were more comfortable with each other when they were making the new album.
Farrar said they signed a one record deal when they made their first album and they also recorded the "Where The Dogs Don't Bite" album there. They aren't sure if they will make their next album there. "We're probably a year away from really thinking about it, but I'm certainly not opposed to working with her for the rest of my life," Farrar said. "I can't find a reason not to."
He said that there are other producers who have expressed interest in working with them. "Our options are open and I think Compass is open to whatever we want to do," Farrar added.
Farrar said there is not a lot of labels like Compass Records in Nashville, especially with the pop-country thing that has been going on in country music for the last 15 or 20 years. He described the label as being rebels in Nashville. "We kind of felt like we were rebels in a way for country music as well and it just felt like it fit," he said. "It felt like it was home and we kind of knew right away that's the direction that we wanted to go. We are super glad that we did."
Old Salt Union does a lot of touring. It is currently festival season right now. Farrar said they play at lot in Colorado, the Pacific Northwest and the Southeastern United States. "It's mountain music that we play, more or less. I just think always that's where the music came from and that's where people receive it. There's been a resurgence of young cats getting in mountain music and string music in the Pacific Northwest," Farrar said.
Old Salt Union has played quite a bit in Nashville, including at The Basement East and at the famed Station Inn. Farrar said a difference between playing in Nashville and other places is Nashville are more attentive.
They have been touring with Son Volt. Farrar is the nephew of Son Volt's Jay Farrar. "We were on this tour with Son Volt and Jay Farrar is an acclaimed songwriter and you can tell his crowd are all about what you're saying," he said. " A lot of times we have toured through Nashville with him as well. It was pretty cool. "
He said Old Salt Union take songwriting seriously. Farrar said they have had people come up to the merch table to ask about certain lines of songs.
More information about Old Salt Union can be found at www.oldsaltunion.com. Farrar said they post on Facebook and Instagram almost daily.