What is your name/band name? Jason Charles Miller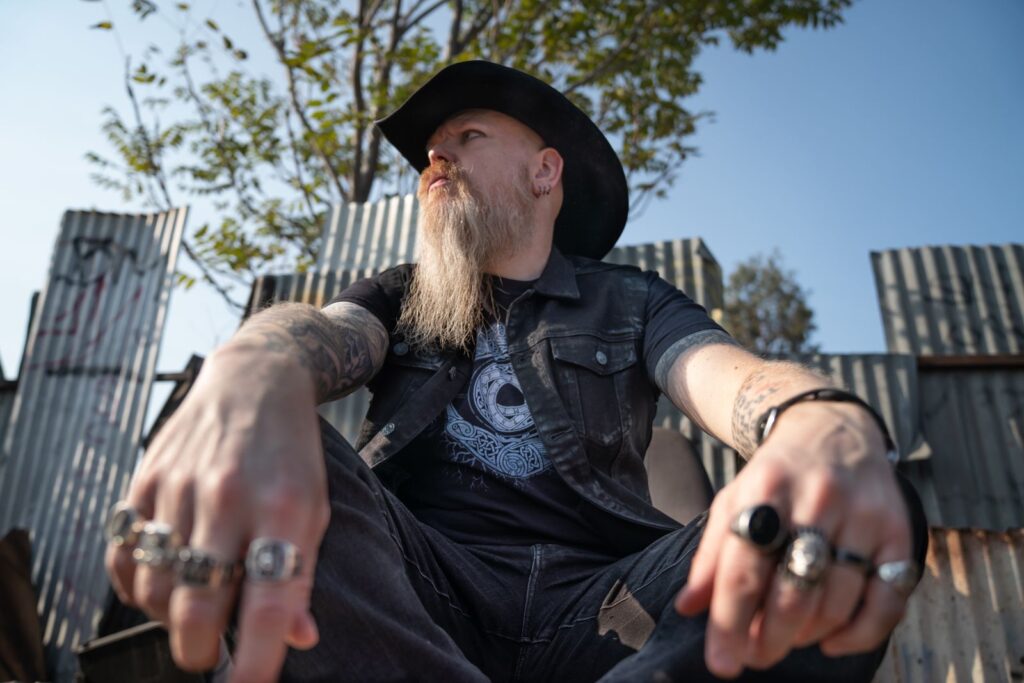 How long have you been writing and performing? Since I was 6 years old I've been performing in front of crowds! Probably wrote my first song around age 12.
When did you first become interested in music? As early as I can possibly remember. My parents gave me The Beatles and John Denver records and off I went!
Who are your influences? Well, obviously early on The Beatles and John Denver! It quickly expanded to Johnny Cash, Led Zeppelin, Fleetwood Mac, Lynyrd Skynyrd, Allman Brothers Band, The Cure, Metallica, The Black Crowes, David Bowie, and Merle Haggard.
When did you know that you wanted to be an artist and a songwriter? The first time I sang in front of a crowd and I saw them go wild, I got the fever!
Other than your musical influences, who has most influenced your decision to become a singer? Certainly the encouragement of both my parents.
How does your early music differ from your most recent music? Well, my old band Godhead was much heavier than the kind of music I'm doing now, although I think you can still hear elements of that heavier, darker sound in whatever I do. We were full of so much angst and I guess we just needed to get it out! I still sing about the darker side of things, but hopefully in a way that more people can universally relate to.
Tell me about your current project? I'm putting out TWO albums this year. Mini albums you might say. 7 songs each. "From the Wreckage – Parts 1 and 2." One on March 26th and one in October. I felt like with the uncertainly of touring, it's good to keep releasing music as often as I can. These are a combination of brand new songs, a cover song on each one, as well as songs that I wrote for my last solo album, "In The Wasteland." I wrote 45 songs for that album and we only picked 11. There were some GREAT songs (in my humble opinion) that I still wanted to release to the world!
Was it difficult for you to pick a single to release? Usually the first single will jump out at you and be obvious, and then the rest will follow. Taking a step back and not listening to anything for a few days really clears your head and helps in making those decisions.
What do you hope listeners take away from listening to the single? Better Late Than Never – That they can relate to it! That it rocks their world but also speaks to them personally.
What is your favorite song on the album? Why? It changes every day! Probably right now the lead off track, "Expiration Day," because we just shot a music video for it! We're editing it right now and I've having to hear it a lot, but the greatest thing is listening to Duane Betts' guitar solo on it!
Does this album reflect where you are in your life right now? Why or why not? I mean look, we're ALL in a holding pattern in life right now, right? Where I am in life is waiting for things to get back to "normal," and who knows what that will even look like for the next few years, so I'm just going full speed ahead as best I can. So I'd say YES it DOES reflect where I am in life right now! LOL
Do you prefer to release full albums or release albums a single at a time? Why? I'm still an "album" kind of person but I'm also willing to accept that the industry has changed a LOT since I got my first record deal in the 90s, and so as a business person I'm willing to shift with how people consume music. I've always been a huge fan of concept albums though, when the artist takes you on a journey for an hour or so, so I'll never get tired of listening to albums like that by other artists.
What did you do during the pandemic when you weren't able to be doing shows? I launched my own Twitch channel and I stream 3 times a week. I have Miller's Music Mondays, which always has another guest. I run it like a songwriter round, and have had a lot of amazing guests on like Ellis Hall from Tower of Power and Duane Betts from the Allman Betts Band. Then I host a song writing show on the Codename Games Twitch channel on Tuesdays, and then it's back to my channel for Whatever You Want Wednesdays. It keeps my chops up and keeps me interacting with people, but nothing beats playing in front of a live audience! I'm also a voice actor for video games, commercials and animated projects, and luckily that didn't slow down during this time. I was also hired to write music for 4 different video games, so I'm extremely thankful.
Have you been able to do any shows yet? Just live-streaming, but I did stream one acoustic show from the World famous Whisky A Go Go, and that ALMOST felt like a real show, because at least we were at a real venue and not broadcasting from my guest room! LOL
What will it look like when you get back to your typical performing and touring schedule? Hopefully like how it used to be, although no one really knows! I think outdoor shows will be more of the norm for awhile, and indoor shows will have limited capacity for everyone for awhile.
Anything else you want to share? We're almost there! I hope everyone is staying as safe as they can. Just a few more months and we'll be able to hang out again!