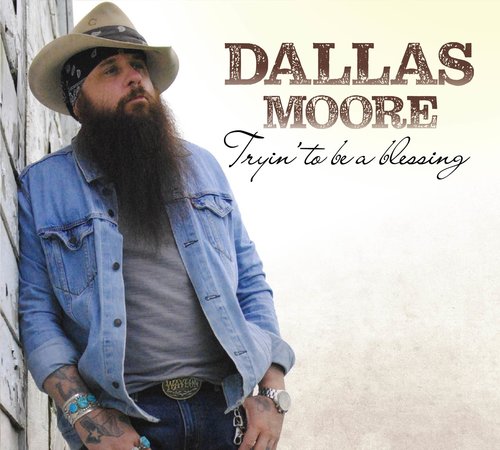 I've had been waiting literally months for the new Dallas Moore album. I had heard Moore play some tracks from the album during live performances. When I finally heard the album in its entirety when it was released on Oct. 4, it did not disappoint.
Like his previous album, Tryin' To Be A Blessing was produced by Dean Miller, who is the son of Roger Miller. I have been following Moore's music for over 20 years. I think this is one of Moore's best albums. One reason I like is because it reflects his personality and his life.
"Mama and Daddy" is the first song on the album. It's an more up-tempo version of a song which Moore recorded on a previous album. It was re-recorded as a tribute to his parents, who both passed away in 2018.
Moore is a devoted husband and father. There are songs on this album that reflects that side of him. "Everything But You" talks about how well things are going for Moore right now, but he misses his family while he is away. The song comes from a very real place because Moore does over 300 shows a year on a tour that takes his all over the country. A video was made for the song featuring his wife and daughter premiered on Billboard.com in late August.
Moore hasn't been an artist who has recorded a lot of love songs throughout his career. A couple great ones can be found on this album. "I Love You Woman" and "You Save Me From Me" are honest and make it clear that his wife has helped him become a better man. This is an example of why I like for artists to write their own songs. These are not generic love songs filled with a lot of clichés. These are honest songs that reflect their actual relationship.
Moore doesn't play as many cover songs in his live shows as he did in the past. He has a talent for picking the cover songs that fit well with his style. He included a cover of Creedence Clearwater Revival's "Lodi" on the Tryin' To Be A Blessing album. I love this song and I am really glad it is included on the album.