The Tin Pan South Songwriters Festival, which is sponsored by the Nashville Songwriters Association International (NSAI), will take place between March 29 and April 2 in Nashville, Tennessee. This year's festival will feature performances by over 300 songwriters on nine different stages over five days. Many of the venues will host two shows per night. Fast Passes can be purchased from NSAI for $145 for NSAI members and $175 for non-members. Limited tickets will be sold as capacity permits after attendees with passes are seated.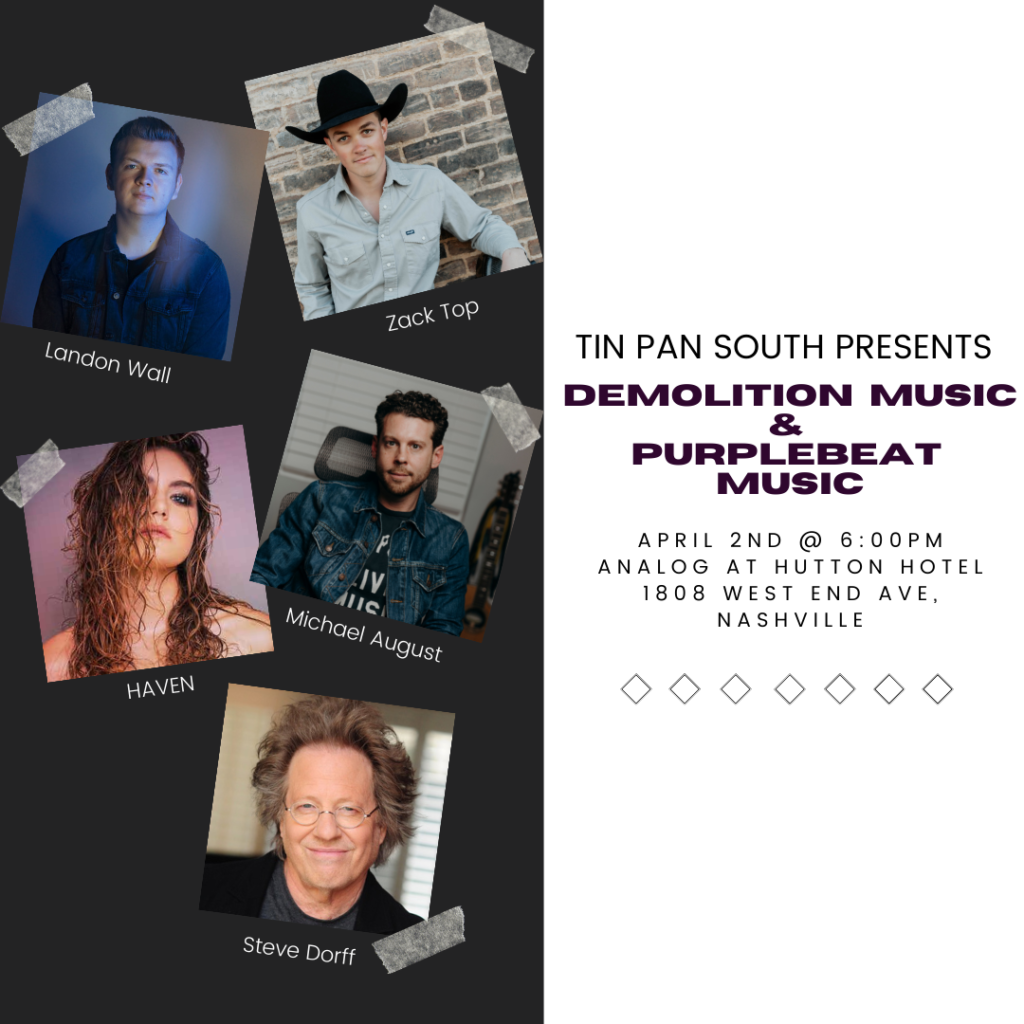 When are you performing during Tin Pan South this year? 6 pm Saturday night (April 2) at The Analog at the Hutton Hotel in Nashville.
When did you first know you wanted to be a songwriter? When I was 7. Actually, I first wanted to be a performing artist and there weren't a lot of songs that a seven-year-old country music artist could sing. I told my momma that I wanted to learn "Wagon Wheel"…Then I asked her what a "Nice long toke" meant….She said it means you can't sing that song…I had a talk with my dad and a little while later I came back singing my version of Wagon Wheel…"Walking to the South…Out of Roanoke…I met a trucker out of Philly…Had an ice cream float…" Momma gave me a thumbs up.. Me and dad started changing the lyrics to popular songs so that I could sing them and eventually decided to write our own…
Who are your influences as a songwriter? My dad was my first influence. When I was seven, he started playing a game with me called the rhyming game when we were riding in the car. He would give me a sentence and I had to say one back that rhymed and made sense. We would go back and forth to see who made the last rhyme. I loved that game! Later I realized that he had been teaching me how to write songs. My other influences were Garth Brooks with his story songs and Johnny Cash. Johnny Cash died on the day that I was born (September 12th, 2003) so I never got to meet him, but I always felt a connection with him and loved his songs. More recently, I would say that Hardy, Earnest, and Morgan Wallen have influenced my writing.
What instruments do you play? Guitar, bass and drums.
How old were you when you wrote your first song? I was seven…"If it's to be"
Do you prefer to write by yourself or with other songwriters? I like to collaborate with other songwriters.
What is your favorite original song that you have written? That's a hard one…It's kinda like asking a parent which one of their kids is their favorite…There is one song that is really special to me…When I was 13, I had an older gentleman come up to me after a songwriters round and ask me "Why do you sing the songs you do". When I got home I told dad what the man had asked and we wrote a song called "Somebody's Out There Listenin'". When I played it at The Listening Room, the audience's reaction brought me to tears. I played it at a farm once owned by Johnny Cash and afterwards a man came up to me and said "That song can save lives…I know because it saved mine tonight". As he walked away I realized how much a song can impact someone's life.
What do you generally write your songs about? I write songs about life. If I've experienced it…I've written about it…If I watched someone go through it…Chances are it ended up in a song. What is your favorite venue to play in Nashville?There are lots of great venues here in Nashville. Right now, I would have to say that my favorite is The Listening Room.
What is your favorite restaurant in Nashville? Hattie B's.
How has playing writer's rounds helped you grow as a writer? It has given me the opportunity to experience the audience's reaction to my songs.
Why did you want to participate in Tin Pan South? Tin Pan South is an awesome songwriting event. People come from all over the world to participate. It's an honor to be able to perform there.
What are your future professional goals? Touch as many people as possible with my music.
What advice would you give to an aspiring songwriter? Write what you feel. Don't let anyone put you in a box. Learn from your favorite songwriters, but develop your own style.
Are you on social media? Yes! Youtube; LandonWall1 Instagram: @LandonWallOfficial Facebook; Landon Wall Musician TikTok: @LandonWall.
Where can people find more information and listen to your music? www.LandonWall.com