Singer, Actor and TikTok star Cory Singer released an emotional new song called "Someone" earlier this year. The song has already has been streamed on Spotify over 7,000 times. He said he wrote the song when he got self-reflective about loneliness and his experience with having autism. I basically just got honest and wrote about it," he said. Singer's 60-second TikTok videos of him talking about a topic related to autism. He said a few of them have gone viral.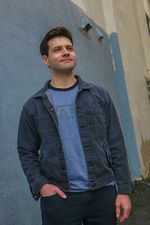 There is a music video for the song, which basically tells the story in the song. Singer said the video featured him alone and lonely while seeing a happy couple nearby and craving the happiness that they were feeling. There were restrictions to filming the video because of COVID-19. "My part was actually filmed here in New Jersey and we worked with another videographer down in Tennessee who filmed the actor part with the couple down in Tennessee. If you watch the video, you wouldn't think that was the case," he said.
Singer's TikTok account has over 119,000 followers and 2.8 million likes. He said that most of his videos consist of him talking about a topic related to autism. He said that a lot of his TikTok followers have listened to his music as well. "Someone" is the first song he has written about autism. Singer said that the song means a lot to them, adding that he has seen videos of people listening and singing along to the song.
He said he has never really had a following this big before, adding that he has also received messages from parents of people with autism. "That's the most rewarding part out of all of it, just the feedback from everybody. It sells it for me."
Singer said he had a hard time in school and he was know as the theater kid. He said he knew he had been diagnosed with Asberger's Syndrome, but he didn't know a lot about autism. "I could have used a lot more help. I also had trouble socially as well," he said, adding that he found his voice in a sense and literally because he was actually good at it. He said that's what got him respect and attention. "It wasn't until I was in middle school that I personally discovered that I could sing," he said, adding that it wasn't until high school drama that he really able to show off his talents.
Some people think that singers with theater backgrounds sound too theatrical. Singer said it does get very insulting when people say something like that. He said he is in awe of Adam Lambert, whom he believes is one of the singers right now. "I don't think he get's enough credit for it and I think a lot of that has to do from his days in theater," he said.
Singer said his theater background helps him when it comes to his music. He said when he is in the studio, he's often asking if he put enough emotion in the song. He said that an actor on stage is portraying a character when they are singing a theater song. He said that's what he is doing when he is singing, like he is telling the story in the song.
Right now, Singer in focused on released singles, but he may release an album at a later time. He is also open to other entertainment projects. He said that doing a movie at some point would be a dream.
In addition to releasing more music, Singer said that he wants to put out more information about autism. "I don't want to be the spokesperson because if you've met one autistic person, you've met one autistic person," he said. "…I just want to get the word out there that it's nothing to be ashamed of and nothing that needs to be cured and it's not inherently a bad thing."
For more information about Singer, people can visit his website at www.corysingermusic.com. His music is available for streaming on Spotify and it can be purchased on Apple Music and Amazon Music. He also has a YouTube channel. Singer is on Social media. He can be found at @thecorysinger on TikTok. @corysingermusic on Facebook, @CorySings on Twitter, and @corysingermusic on Instagram.