The 2nd annual Hall Around Town Radio – "Acoustapalooza" will be held at The Barrel in Springboro, Ohio on March 22. The event, which will feature performances from nine bands and 10 solo acts, will raise money for local children with Type 1 Juvenile Diabetes. The performances by local music artists will begin at noon. Superior Hyundai of Bevercreek is the sponsor of the main concert stage and the side solo stage is sponsored by Ruscello's Salon of Springboro. There will be great food, door prizes, raffles, a silent auction and non-stop music throughout the day. The money raised at Acoustapalooza will benefit the Dayton Children's Hospital Foundation.
Heath Bowling's Acoustapalooza performance is being sponsored by Groves Franklin Tavern and Fairfield Pub.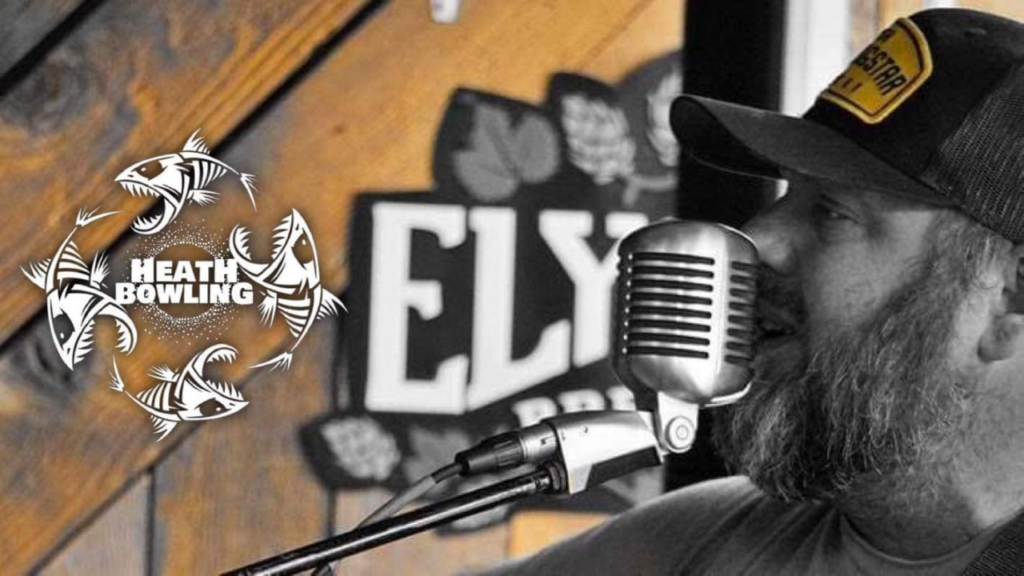 1. When did you know that you wanted to be a singer? I don't know if I ever wanted to be a singer per say. I really just wanted to be a great songwriter of sad songs. There are so many more talented singers in our area than me. I just love to write songs. If I could get the excitement sitting in the crowd watching people sing my songs than I do playing on the stage, I probably would be in a factory somewhere.
2. What artists have influenced your style? Todd Snider for sure!!! The way he works the crowd with stories and humor is what I try to do. I also love his songwriting which is very serious yet comical. George Jones speaks to my soul deeper than any other artist. Hard facts and truth come from The Possum like no other. Lastly, Chris Cornell was always a big influence on me growing up. My best friend was my uncle and I unfortunately lost him a few years back. I've always held Cornell as one of the best storytellers/songwriters thru a dark/heavy sound. Every time I heard DeMoss sing Cornell makes me smile and think of the best friend I ever had.
3. When did you first play music in public? First time I ever played in public was actually only 3 years ago. I went and seen my buddy Matt play out at Steiner's in Chillicothe. I just got on stage and played a couple tunes that he wrote with him just observing. Talk about nerves. Yeah they were definitely there.
4. What is a cover song that you include in every show? Why? "He Stopped Loving Her Today" I sing this song every night to close my shows.  I do it because it reminds me of my grandma who we lost this past year. She was my last living grandparent that I had left. She taught me everything I know about country music. Maybe she's to blame for me not taking a liking to the newer "country".  Which makes me smile 
5. How long have you been playing guitar? Do you think it is important for an artist to play more than one instrument? I've played guitar since I was 14. My mom got me my first guitar on my birthday it was Peavey's version of a Strat. I think you should master one thing before you move on. But, don't take my advice I'm 40 and still haven't mastered a guitar.
6. What is your favorite original song? What inspired you to write it? "Ballad of the Groves Franklin Tavern." I'll tell you if it wasn't for my family and friends there I don't know if I'd still be doing this. They built me up some much with confidence and companionship like no other venue. I'll always be in debt to Groves and their Patrons.
7. Why did you want to play at Acoustapalooza? Scott Hall is a true friend to me and has never asked for a single thing in helping me me when I call for his help. I also don't shy away from benefits, especially kids benefits. I just go by what I've been told Somebody out there has it worst than you do.
8. Do you have any suggestions what people should eat while they are at The Barrel for Acoustapalooza? I honestly have only ate the Pizza and Dumpster fries. I have no complaints on both they were delish. Honestly though their PBR and Jim Beam are the best they've got to offer, haha!!!
9. Where can people hear your music before Acoustapalooza? There are some videos on Facebook @heathbowlingmusic and there is a group called The "Pinheads" Friend and Fans of Heath Bowling that also has some live video. At shows I have an EP for sale and stickers. Currently that's all that is available.
10. Anything else you would like to add? Come out and support a great cause!! Any chance you can go support live music at an establishment do it!!! Lots of places we play have great food and drink specials. We're in a time where going out to have a good time is dying. People would rather order in and watch Hulu. We need your support now more than ever plus we love to see as many friends and new friends as we can at every show.