What is your name? Ashlyn Grayce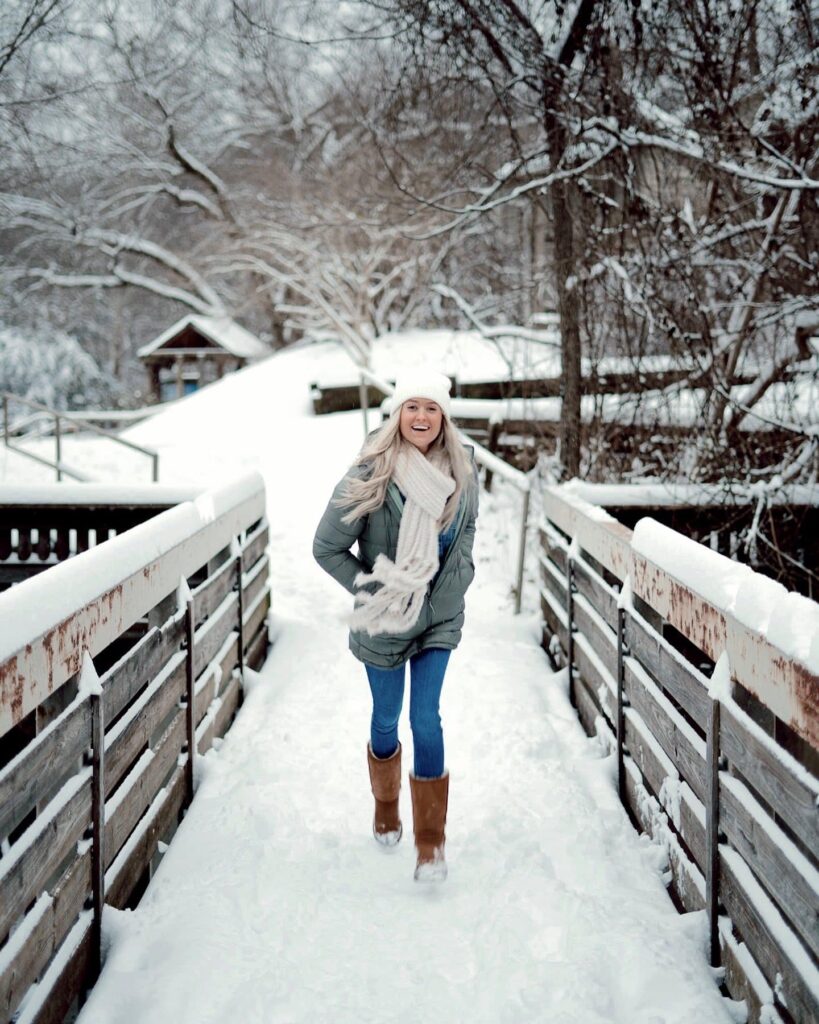 What is your current single and/or album? Letter From Heaven
Do you prefer artificial Christmas trees or real trees? Real Trees! My husband and I have a tradition of going to a local Christmas tree farm, picking out the perfect tree, and then cutting it down ourselves. It is something we always look forward to!
When do you decorate your Christmas tree? The day after Thanksgiving.
What is your favorite Christmas song? What makes it your favorite? I'd have to say either "Silver Bells" or "Silent Night." I just have such sweet memories of sitting around with my family and singing these songs together around the Christmas tree, after a nice dinner. The family harmonies and the overall joy and happiness we all have of being together makes it so special.
What is your go-to holiday drink? My family is big on breakfast, so honestly mimosas! I like to spice them up a little bit with other fruit juice! My favorite is adding pineapple juice! So simply mix champagne, orange juice and pineapple juice together! Cheers! : )
What is your favorite Christmas present that you have ever received? A guitar 🙂
What were your Christmas traditions when you were younger? My family always puts on pajamas, makes hot chocolate and drives around town to see all the Christmas lights and decorations while listening to Christmas music on the radio! Another family tradition is making time to go out to Gaylord Opryland Hotel and Resort to see all the amazing lights and decorations. We also love to go to ICE! and the Dancing Lights of Christmas!
How have your Christmas celebrations changed since becoming an adult? Now that I am married, it is a mixture of Christmas celebrations with my family and my husband's family. It has been fun to keep some of the same traditions up, but also create new ones with my husband!
What is your favorite Christmas memory? I have so many! Growing up my mom, dad, little brother and I would do Christmas with my grandparents on Christmas Eve which I always loved, and then my little brother and I would go to bed super early that night in preparation for Santa to come! We would bake cookies and sit out milk and even leave carrots outside for the reindeer! We would wake up really early, wait for mom and dad to get the video camera and then rush in to see what all Santa left us! I always loved that time with my family and sharing such special times together! Another sweet memory I have is of my entire family gathered 'round the piano, singing Christmas carols together!
How do you spend the week between Christmas and New Year's Day? It seems to vary each year, but this year, I plan to go to Georgia and spend time with my entire family. That will consist of a whole lot of relaxing and good food!
How do you spend New Year's Eve? On my couch! Ha! Every year my husband and I spend time with some of our best friends. We alternate between their house and our house! This year we are hosting and will make dinner, have some drinks and hangout until the ball drops! It is very low-key and we wouldn't have it any other way!
What do you typically eat on New Year's Day? Black-eyed peas and turnip greens… always a must!