The National Academy of Television Arts & Sciences (NATAS) announced last week that Pickler and Ben has been nominated for two Emmy awards, which will be held in Pasadena, California on May 5.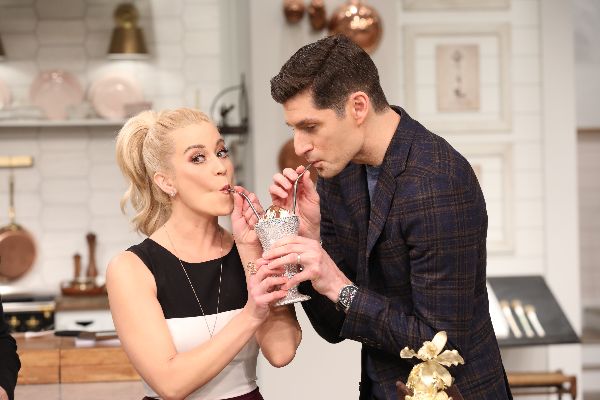 Hosts Kellie Pickler and Ben Aaron have been nominated for Outstanding Informative Talk Show Hosts, and guest Ben Rector's performance of "Old Friends" has been nominated for Outstanding Musical Performance in a Daytime Program.
The show premiered in 2017 and the hosts were up for an Emmy last year as well. "The entire team here at Pickler & Ben are so happy our awesome hosts, Kellie Pickler and Ben Aaron have been nominated once again," Executive Producer and Happy Street Entertainment Co-Founder Lisa Erspamer said in a statement.
I can say that I am not one bit surprised by this news. There are a few things that separates Pickler and Ben from the rest of the pack. One thing that makes Pickler and Ben different from other shows. I'm not saying that there aren't great hosts on other programs, because there are and I enjoy watching some of them. Still, Kellie Pickler and Ben Aaron are a little bit different.
Like most people, I first became introduced to Pickler through watching American Idol. For her audition on that show, her personality was undeniable and irresistible. She brings that same personality to Pickler and Ben. She's the main reason I tuned watched this show.
When this show premiered, I was not familiar with Ben Aaron. It's true that he had credits including being a contributor on shows like
"Extra," "Meredith" and "Today." Aaron and his wife Ginger Dee, chief meteorologist on Good Morning America, also had a home renovation show on the DIY network called "Renovation Realities: Ben and Ginger."
I'm not sure if I ever saw him on any of those shows, but he didn't make an impression on me until Pickler and Ben. Just like Picker, Aaron has the ability to be both funny and serious. He compliments Pickler and they are entertaining together.
Another thing that makes Pickler and Ben special is the fact that it is filmed in the Nashville area. I am proud to be a Tennessean and I think it is wonderful that it is filmed at Nashville's Skyway Studios. It's more than that. I don't believe the show would be the same if it were filmed in another city such as New York City or Los Angeles. The show gives a the audience a heaping helping of Southern hospitality and charm. I love the fact that Aaron is from New York. On occasion, it allows the audience to see the magic of Nashville through his eyes.
Rick Amburgey is an experienced journalist and a country music fan. He can be contacted on Twitter at @ViewsCountry.