Independent country music singer Ray Scott has recently released a new six-song EP called "Nowhere Near Done," which may be his best album to date.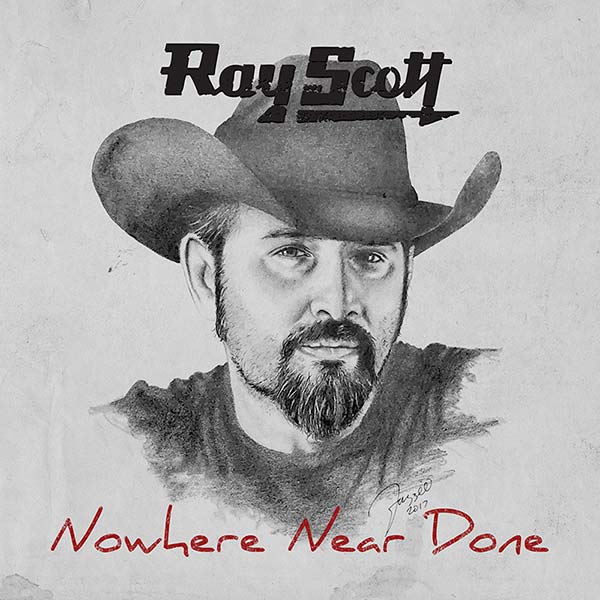 Scott said he thinks it is a little more personal than prior projects. He said that the more honest you are as a singer and songwriter, the more people will be able to relate to the songs. I think it's just been sort of subconscious, sort of an automatic move in that direction," Scott said, adding that he wanted to do something that wasn't like everything else and give people something they weren't expecting.
The new album also feels a little more serious than some of his past albums. He has become known for more comedic songs like "Those Jeans," but there are no funny songs on this album. Scott said he doesn't necessarily try to include a funny song on every album. "Sometimes I feel that people tend to put me in that box and I don't want to be typecast as that guy because percentage-wise I've got a lot more serious songs than I do funny ones," he said. Scott added that if he comes up with a song that is hilarious, he will put it on his next album.
One standout song on the album is called "Bottle of Whiskey," a great song told from the perspective of an actual bottle of whiskey. Scott said he thinks it's one of his favorites for that reason. "It's something I've never heard done before," he said. "In this world of people writing whiskey songs every other day, I felt like that was something I hadn't heard. I'm proud of that, but I'm proud of all of them for one reason or another."
Scott said he thinks the song was given to him by a higher power. "The angle kind of allows me tell a story from the standpoint of being more self accountable as opposed to pointing the finger at some kind of liquid. I think a lot of people can relate to that," he said. Scott said his father served in Vietnam and was an alcoholic for a number of years. He was able to work that into the song as well.
There is a song on the on the album called "I Will" and it sounds like an anthem, as he vows to stay true to traditional country music. The song was co-written with Ward Davis, who used to play keyboard in Scott's band. The two met around the time Davis moved to Nashville.
Scott said Davis wrote a song with Cody Jinks about three years ago and he's been out there these days making a name for himself. He has been playing shows both with Jinks and by himself. "Ward kicked around Nashville for a lot of years too without getting very much love from the town," Scott said. "I knew he could relate to what the song was saying."
In addition to co-writing the song, Davis also sings a verse of the song on the track. "I think some of his fans are hearing it right now and I think a lot of them are liking it," Scott said.
Country music has evolved a lot over the years and there's not a lot of traditional country music being played on mainstream country radio these days. Scott said he knows there are a lot of people who have liked that style of music and want to hear more of it. "By being myself, I'm kind of filling that void for people…Independent country music, I think in general, is doing better now than it ever has," he said.
With the Coronavirus pandemic causing bars and music venues to be closed, full-time musicians aren't touring right now. It helps people like Scott when fans buy their music, particularly through their own websites, instead of just streaming the music. Scott is selling the EP for $10 each, and signed copies are $15 each on his website, www.rayscott.com. There are also other options on his website that include things like a face t-shirt or handwritten lyric sheets with the EP.
Scott plans to be at CMA Music Fest, which is held in Nashville in June. He holds the Friends Of Ray Scott Party on the Friday of the week of CMA Fest. "That's a great thing for us, a great tool and you get to see a lot of people that you see every year, " he said.
Scott was one of the performers on Country Cruising last November, along with other performers such as Neal McCoy, Ronnie Milsap, Trace Adkins, Little Texas, Darryl Worley and many more. He said that they had fun playing on the ship, adding that the artists have more access to fans during the cruise. "It's honestly like a big party for a week," Scott said. He is scheduled to be on Country Cruising again this year. It sails between Nov. 9-14 and will also feature performances by artists such as the Charlie Daniels Band, Adkins, Sara Evans, Mark Wills, and Allie Colleen.