The 27th annual Tin Pan South Songwriters Festival will be held March 26-30. There will be two shows each night at ten venues: The Bluebird Café, Hard Rock Café, Douglas Corner Café, Listening Room Café, The Local, The Station Inn, Analog at Hutton Hotel, 3rd & Lindsley, The Lounge at City Winery, TRUE Music Room and Bar. In addition, there will be some events at the Country Music Hall of Fame and Museum on Thursday, Friday and Saturday.
Alex Hall will be performing as part of the 6 p.m. round at the Station Inn on March 26.
Josh Dorr, Joey Hendricks, and Austin Jenckes will also be a part of the round.
Hall did a Q & A with Country Music Views.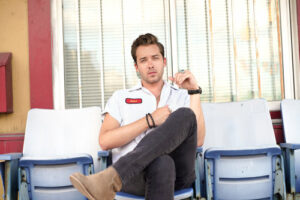 When did you first know you wanted to be a songwriter?
I knew I wanted to be a songwriter in 7th grade. I was taking an advanced writing class at my middle school, and I was suppose to be studying/writing poetry. My teacher realized I wasn't into poetry so much, but I had a huge passion for music. So, instead of having to write poems every day, she allowed me to take a stab at songwriting and I fell in love.

Who are your influences as a songwriter?
My influences as a writer change pretty frequently. I listen to a lot of different styles of music, so it really depends on what moves me that day. The constants are John Mayer, Kings of Leon, Brandon Flowers of the Killers, Kris Kristofferson, Merle Haggard and forever and always, Elvis Presley just to name a few.

What instruments do you play?
I started playing guitar when I was 14 years old, so guitar is definitely where I feel at home. I also dabble on the bass guitar and piano as well.

When did you write your first song?
I wrote my first song in 7th grade, but I feel like I didn't truly start crafting songs until moving to Nashville in 2014. Writing every day, sometimes twice a day, verses once a month maybe, makes you learn the craft better.

Do you prefer to write by yourself or with other songwriters?
It honestly depends on the song for me, wether I write it by myself or with someone else. Most of the time if I am writing alone, it's late at night with glass of wine or bourbon and I'm in my feelings more. haha Lately, I've been co-writing a lot though.

What is your favorite original song that you have written?
It's hard to say what is my FAVORITE song I've ever written. Every song is different. Every new song is your newest favorite, but different songs mean different things. Songs always hit me at different times too, so its hard to name a favorite.

What do you generally write your songs about?
Honestly, most of the time I don't have a specific thing/person I write a song about. A lot of times, it depends on the room and who you are writing with. I just try and write the best song I can that day.

What is your favorite venue to play?
My favorite venue to play is probably The Paramount in Huntington, NY. I toured up there with Thomas Rhett a few years back, and it is hands down the coolest venue I have played.

How has playing writer's rounds helped you grow as a writer?
I think playing writer's rounds has helped me grow as a writer by sitting and listening to the great songs my peers are writing. I also enjoy going and listening to other rounds that I am not a part of! There's something about hearing the writer tell the story and sing the song in their voice that has always moved me.

What are your professional goals?
My professional goal is to make the best music I can make, for the best fans in the world, for as long as I can. Country music, in my opinion, has the best audience, and I am just happy to be a part of it.
Rick Amburgey is an experienced journalist and country music fan. He can be contacted on Twitter at @ViewsCountry.