When a new country album is released, the cover art usually features a picture of the artist. That's not the case in other genres. A lot of classic rock album covers didn't include the artist.
I think there was a time when the artist's picture needed to be on the album. Before television brought artists in homes with programs like The Ed Sullivan Show, fans could only see what artists looked like by seeing pictures on album covers or in magazines unless they were lucky enough to see the artist do a live performance.
When Aaron Watson released the album cover revealed the cover art for his upcoming album Red Bandana, it didn't include a picture of him. I don't think there's anything wrong with that. I wouldn't even call it a dangerous move. I this Watson and his team made the very wise decision to forgo the picture for an image that was even more fitting and personal.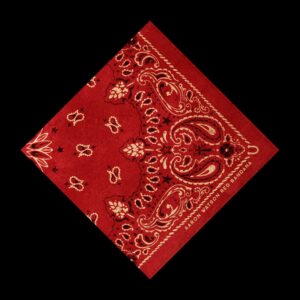 "There's nothing more classic, more country, or more cowboy than an old red bandana. It signifies hard work, grit and determination," Watson said in a statement..  "I made this record with the mindset that this might be my last one, though I believe this is the beginning of something big.  That very mindset helped me focus on writing songs with heart and soul that could leave a lasting legacy."
Watson said he needed a cover that would reflect the meaning behind the music. "I needed something with more substance than just another cover with my picture on it," Watson said. " The title track is a cowboy poem, so I decided, why not just photograph my Dad's old red bandana.  We tilted the square red bandana 45 degrees and there it was, like a diamond in the rough."

Red Bandana is expected to be released on June 21 on his own BIG Label Records and distributed by ADA Worldwide. The first song released from the 20-song CD is called "Kiss That Girl Goodbye," which was also written by Watson. The song is already being played by some major radio stations across the country. Watson is currently on headlining tour across the country and plans to play over 40 concerts before Memorial Day.
For more information about Watson, check out www.aaronwatson.com.

Rick Amburgey is an experienced journalist and country music fan. He can be contacted on Twitter at @ViewsCountry.