Craig Gerdes will be releasing a new album of his brand of traditional country and outlaw country music on April 24. Listeners might notice that the album sounds more like what they might expect to hear at a live show. That is because he took the road band into the studio to get the sound he wanted. "That's where the sound comes from," Gerdes said.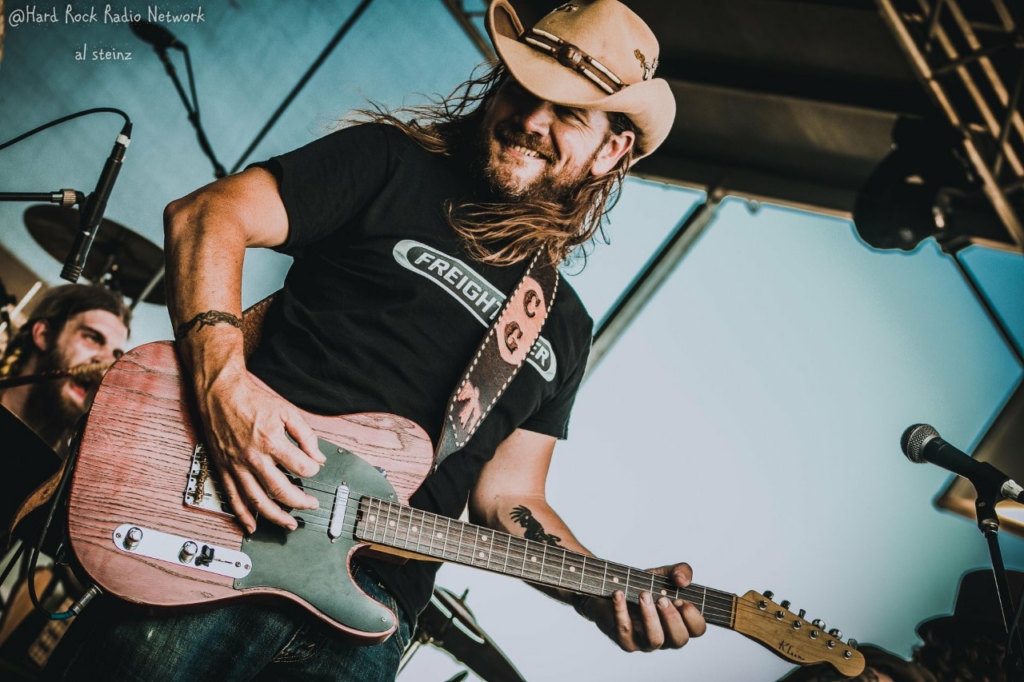 The Tough As Nails album was recorded in about a week at a studio in St. Louis, Missouri. Gerdes said some of the songs have hard driving guitars. There are also some slow songs on the album and the last song is just Gerdes voice and a cello.
Tough As Nails includes a cover of "If Guitars Were Guns," which was originally recorded by Roger Alan Wade. It is the only song on the new album that Gerdes didn't write or co-write. "I just connected to it and related to it, so I took it to the band," Gerdes said. " They loved it. We started playing it out live. We play it out live every set. We had already played it out in front of crowds before we ever went into the studio to cut that song."
Gerdes said he loved the grittiness and the drive in the song. He thought it fit well on the record with other songs such as Highwayman. Gerdes said he wrote a lot of the songs while he was on the road and he sometimes made stops to have a co-write with songwriters here and there. "I spent a lot of time on the road going from show to show, so naturally there's a lot of highway in it," he said.
Gerdes' influences include Billy Joe Shaver, Merle Haggard and Kris Kristofferson. He also said he was influenced by the British Invasion sound and Southern rock. Gerdes said he doesn't listen to commercial country radio, but his Pandora station includes artists like Whitey Morgan, Cody Jinks, Jamey Johnson, Sturgill Simpson and Hank III. The influence of many of those musicians can be heard on the new album.
The title track of the Tough As Nails album was inspired by stories he had heard by people in different states about hardships they have faced and how they have overcame them. "I just think that is ironically enough very appropriate about what this whole country is going through, just overcoming these tragedies and natural disasters," Gerdes said.
Gerdes sings "Storm clouds are rolling in/ there's bad news everywhere" in the opening lines of the song. "That could be about a tornado coming, ripping your town apart and overcoming that," he said.
Another line mentions that the steel plant shut down and everything else did too. One man showed Gerdes around his town. "I met him. He was an old steel worker. He showed me his town, how the town basically went to hell in a handbag once the steel plant closed," he said. Gerdes said the man drove him past the steel plant, which had rusted and dilapidated metal. "That's what the town kind of resembled," he said. "The steel plant shut down. Everybody's out of work. Nobody has any money. " He included that in the song. He said windows were boarded up. Even the local church had shut down and people couldn't even go to church to pray to the Lord.
Gerdes went to play some show in Alabama where he saw the same type of thing. A guy shows him around his farm early one morning. This man used to be a coal miner. He said families were out of work because steel was being imported, adding that coal makes the hardest steel. "That's another inspiration to the story of the song," Gerdes said.
In the song, the narrator mentions that his brother joins the military. "That's the only way out for some, join the service and get out," Gerdes said. The brother goes to Afghanistan and is killed with his boots on and a pistol in his hand. "It wasn't actually my little brother, but it is somebody's little brother," Gerdes said. "It's somebody's son." It is something that happened to a local family and Gerdes said he kind of wrote it about a young man there. "He wasn't even 21 years old. At 20 years old, he died over there," he said.
Gerdes said people have come forward and talked to about it. As he was getting ready for song's release, he asked people send in stories about how they are tough as nails. "I've read every story that has been sent to me about the things they have gone through in their life," he said. "You wouldn't believe the things people have overcome in their lives."
For each letter he recieves, he gives them a signed, handwritten lyric sheet of "Tough As Nails" and gives them a personalized thank you. "They are bearing their hearts and their souls to me," he said, adding that people seem like they feel better for sharing the tragedy. They seem to wear the pain as a badge of courage that they are thought as nails.
Gerdes was supposed to have an album release at The Basement in Nashville, but it was cancelled because of the Coronavirus pandemic. Shows have had to be cancelled in different states and it's not clear when the shows can resume. "I've never been faced with that particular kind of situation. I've had my back against the wall, but not quite like this," Gerdes said. adding that a lot of his friends are full-time musicians and they are going through the same thing too. "It's uncharted water," he said.
People can find out more information about Gerdes and his music at his website, www.craiggerdesmusic.com. He is also on Facebook at @CraigGerdesMusic, on Twitter at @CraigGerdes and on Instagram at @craig_gerdes.